Harrison Barker Route
Harrison Barker is a 19th century British writer who travelled on foot and in canoe in southwest France, including in the Valley of the river Dronne. He wrote about his journeys during summers 1892 and 1893 in a book published in London in 1894: Two Summers in Guyenne. A chronicle of the wayside and waterside. Go up the river Dronne from Aubeterre-sur-Dronne to Brantôme en Périgord in the footsteps of Harrison Barker. Discover the watermills, megaliths he admired, the villages huddled against their Romanesque church he crossed. Maybe you will take the waterside or a bike to go back to the starting point?
Click on the following link to flip through the booklet Chemins de terre de Harrison Barker, 90 km de randonnée en Val de Dronne: https://fr.calameo.com/read/003387113d4f789498242.
To watch a video about the Harrison Barker Route, click on the following link: https://vimeo.com/224285494.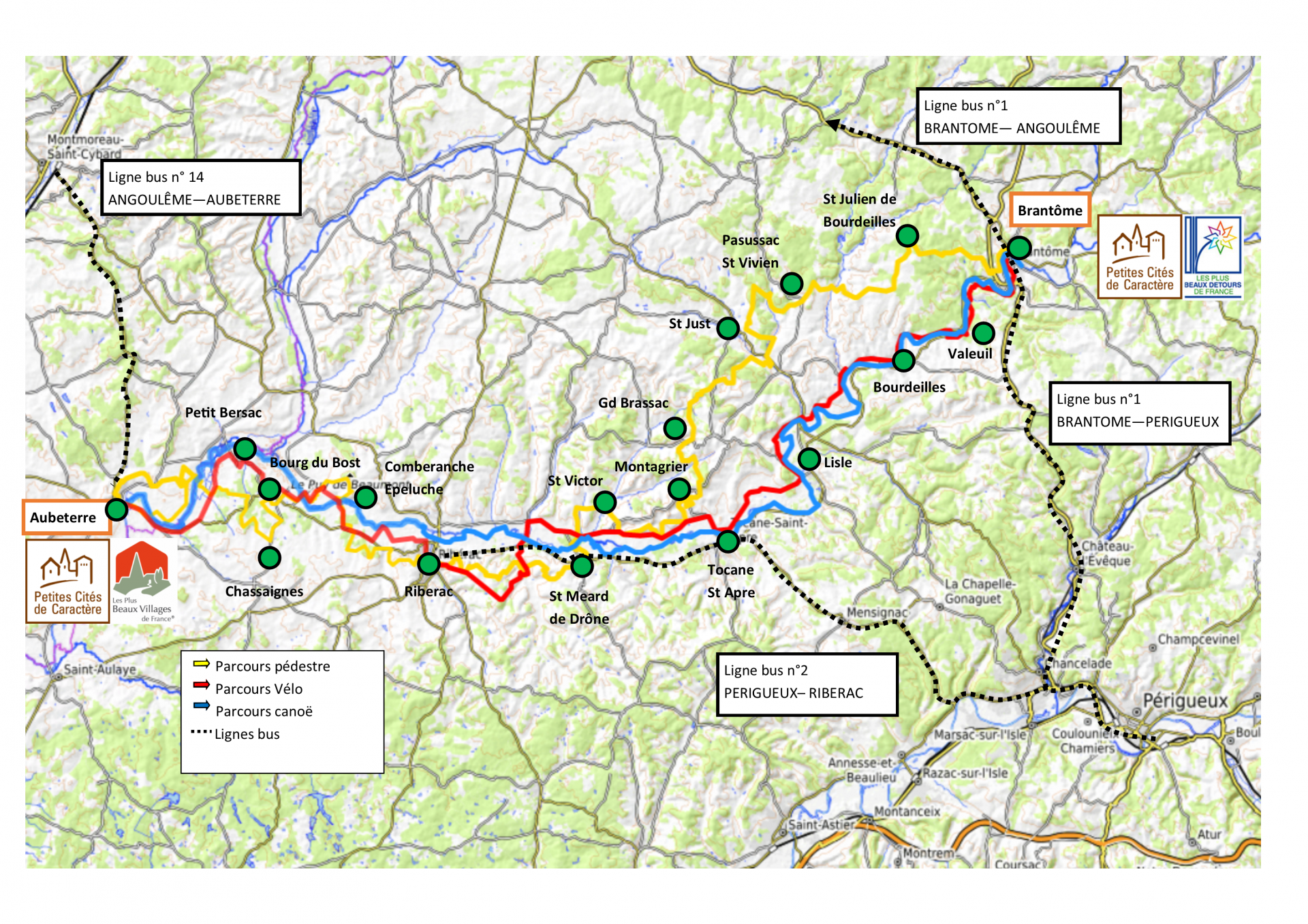 Practical Information
Map: OpenStreetMap
GPS: www.rando.dordogne.fr.
Accommodation: www.rando.dordogne.fr.
Ask for the stores' opening times at the Tourist Offices:
Access: the route starts at Aubeterre-sur-Dronne. Free car park in the village, Place du Champ de Foire.
Chalais SNCF railway station: 15 km – Bus line n° 14 from Angoulême to Aubeterre-sur-Dronne: www.citram-charente.fr.
Return: Direct way back to Angoulême or Périgueux by bus line Périgueux/Brantôme/Angoulême: www.transperigord.fr.
You can also get back to Aubeterre-sur-Dronne from Brantôme en Périgord by bike. For other means of transport (canoe, 2CV…), please contact the Tourist Offices.
For more information: www.rando.dordogne.fr.